CKEditor 2+ (4.8.0) - full
---
---
---
Share:
CKEditor 2+ (4.8.0) - full




What it does

CKEditor is a ready-for-use HTML text editor designed to simplify web content creation. It's a WYSIWYG editor that brings common word processor features directly to your web pages. Enhance your website experience.

Easy to use interface with the ability of changing the themes of editor. Choose your preferred theme and preferred language.


Full featured

Completely functional with no limitations. Use all the features for as long as you want.
Enjoy the most powerful and agile editor in the world. Paste from Word and keep all formatting intact. Designed for people with special needs. It also supports high contrast mode and interface keyboard navigation.

Now you can upload PDF files with default image manager + link them to editor

Compatible with all major browsers (Firefox, IE, Opera, Chrome and Safari)

Installed plugins:

- 4.6.2 version
- ckeditor on reviews
- Set Height of the editor
- CodeMirror (Source) Syntax Highlighting
- Google Fonts in enhanced mode
- Customization
- Bootstrap responsive columns
- YouTube, Flickr, Qik, Vimeo, Hulu, Viddler, MyOpera, etc. integration
- Google Maps (stylized)
- Font Awesome
- Slide-shows
- QR-Code Generator
- Simple Links
- Text Optimizer
- Allowed <i></i> tags
- HTML templates
- Clipboard (paste from Word and plain text)
- Form elements (form, checkbox, radio button, input field, etc...)
- Undo/Redo
- Search/Replace
- OpenCart file manager for image insert
- Embed media (YouTube, Flickr, Qik, Vimeo, Hulu, Viddler, MyOpera, etc.)
- Embed flash
- Table wizard with columns resizing
- Font styling (bold, italic, underline, strikethrough, subscript, superscript)
- Additional styling including h1/h2/h3
- Text and background color selection
- All available languages from CKEditor package

- Improved functionality
- Always updated !

----------------------------------------
EXTENSIONS : ***
----------------------------------------
If you are using one of these modules:
Pro Email Template
Newsletter extension
Blog - News v4.4
News - Blog v4.4.1
Blog Manager 2
Clear Blog
PDF Invoice
Notify module
Questions & Answers Fix
Xform
Admin Enhanced 2 Categories / Admin Enhanced 2 Products
Admin Review CK

download the 3rd_party_integrations file and find and install the related plugin for your extension

*** if your extension is not in the list please contact us at support@dotbox.sk

Easy installation via ocmod or vqmod.

Out of the box 3rd party extension support - check the documentation tab
- Pro Email Template
- Newsletter extension
- Blog - News v4.4
- Blog Manager 2
- Clear Blog
- PDF Invoice
- Notify module
- Questions & Answers Fix
- Admin Enhanced 2 Categories / Admin Enhanced 2 Products
- And more...

Demo

OpenCart 2.0+ demo (guest/guest)


Testimonials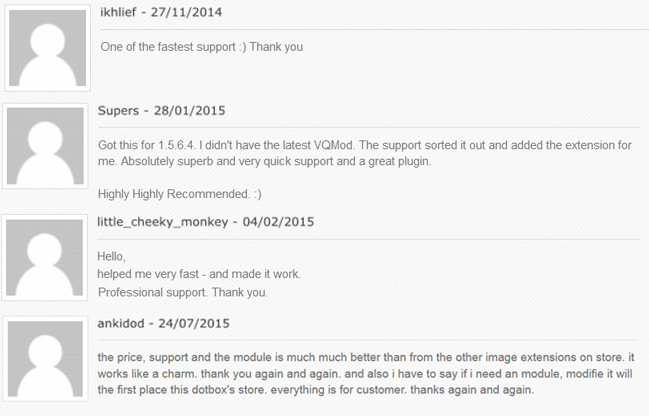 Installation

See Documentation...

----------------------------------------
Installation
----------------------------------------

----------------------------------------
OpenCart 2.0+ :
----------------------------------------

OCMOD VERSION
1) Upload *.zip package through Extensions > Extension Installer trhough opencart admin
2) Refresh the modification cache with Refresh button in Extensions > Modifications
3) Go to Extensions > Modules > Install and setup the CKEditor 2+ module
For a rollback of the installation, you simply need to Disable or Delete the extension in Extensions > Modifications and then

clear - refresh cache.

For manual rolback delete files in system\modification and Refresh the cache in admin.

VQMOD VERSION - NO LONGER SUPPORTED
1) Install vqmod following its instructions if you do not already have it (download http://vqmod.com/pages/download.php)
2) Copy the content of the upload folder to your root of the opencart through your ftp.
3) Go to Extensions > Modules > Install and setup the CKEditor 2+ module

For a rollback of the installation, you simply need to remove the file extension in vqmod/xml.

----------------------------------------
EXTENSIONS : ***
----------------------------------------
If you are using one of these modules:
Pro Email Template
Newsletter extension
Blog - News v4.4
News - Blog v4.4.1
Blog Manager 2
Clear Blog
PDF Invoice
Notify module
Questions & Answers Fix
Xform
Admin Enhanced 2 Categories / Admin Enhanced 2 Products
Admin Review CK

download the 3rd_party_integrations file and find and install the related plugin for your extension

*** if your extension is not in the list please contact us at support@dotbox.sk


CHANGELOG:
==================
v1.4.7 (16/1/2017)
- CKEDITOR 4.6.2
- fixed issue where buttons were not working with slideshow

v1.4.6 (10/12/2016)
- CKEDITOR 4.6.1
- fixed issue where server browse button was not responding in IE and chrome

v1.4.5d (13/10/2016)
- OC 2.3 blog manager 2 minor fix

v1.4.5c (10/10/2016)
- OC 2.3 blog manager 2 support

v1.4.5c (29/09/2016)
- OC 2.3 html module fix

v1.4.5 (2/08/2016)
- ckeditor version 4.5.11

v1.4.4f (23/08/2016)
- added ckeditor on admin reviews plugin

v1.4.4f (10/08/2016)
- opencart 2.3 - fixed advanced options

v1.4.4 (2/08/2016)
- ckeditor version 4.5.10
- opencart 2.3 compatibility

v1.4.3 (20/06/2016)
- ckeditor version 4.5.9

v1.4.2 (15/04/2016)
- addressed journal 2 source issue

v1.4.1f (13/04/2016)
- major bug fix when selecting sub-folders with default file-manager in oc 2.2
- ckeditor 4.5.8

v1.4.1 (11/03/2016)
- major bug fix in oc 2.2

v1.4.0 (10/02/2016)
- set default height of the editor
- ckeditor version 4.5.7

v1.3.9 (11/12/2015)
- ckeditor 4.5.6

v1.3.8 (8/12/2015)
- url bug fix
- ckeditor 4.5.5
- slideshow fix

v1.3.4 (30/11/2015)
- fixed issue that ckeditor was not loading at mail form

v1.3.3 (3/11/2015)
- added CodeMirror (Source) Syntax Highlighting

v1.3.2 (21/10/2015)
- update to 4.5.4
- added google fonts

v1.3.1 (29/9/2015)
- update to 4.5.3
- minor fix

v1.3 (22/9/2015)
- standalone function to upload pdf files through OC image manager
- link the files
- added vqmod version

v1.2 (5/8/2015)
- version 4.5.2

v1.0 (5/8/2015)
- Initial release