Custom Info Fields
---
---
---
Share:
CUSTOM INFO FIELDS






What it does

With this extension you can add various "attribute-fields" info boxes.
Help your customers to identify key features of your products with ease.

You can define any text, size, number to be displayed in your category page or product page per product.

Display fields at:
• Product page
• Category page
• Search page
• Module pages

• JOURNAL theme supported


Easy installation via ocmod.

Demo

Category demo

Product demo

Module demo



Testimonials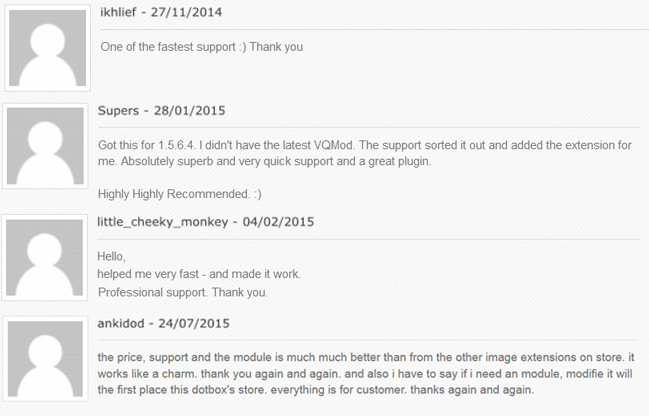 Installation

See Documentation...

----------------------------------------
[b]Installation[/b]
----------------------------------------

==================
[b]OPENCART 2[/b]
==================
The mod is released via ocmod, thus avoiding changes to core files OpenCart and easier maintenance (and possible rollback).

OpenCart 2.0+ :
1) Install custom_info_boxes.ocmod.xml through Extensions > Extension Installer through opencart admin
2) Refresh the modification cache with Refresh button in Extensions > Modifications
For a rollback of the installation, you simply need to Disable or Delete the extension in Extensions > Modifications and then clear - refresh cache.

For manual rollback delete files in system\modification and Refresh the cache in admin.