Product Options to Category List
---
---
---
Share:
Product Options to Category List


SALE !!!

What it does

Product Options to Category List is an opencart extension. It add the ability to display and customize any product option to category list at front end of your store. You are able to customize which product option is shown in the category page of your store. You can turn on/off whole option types or on product > option to option basis.
Customers can chose the options on products category page and add it to cart without need to go to product page.

It is very useful if you want to speed up the process and significantly boost your sales, because in most cases customers could have one step less when choosing the right options to products. Or if you having a store for example pizza where you can show the size from the category page, saving time for your customers.

As an extra feature the extension comes with the extra modifications for default modules (which comes with the opencart as featured module, special module, latest etc…), so they show the product options as well.

Compatible with our Quantity Options + AutoPrice !!!
--> auto-count feature on the category list in demo is caused by Quantity Options + AutoPrice extension

Compatible with mojishop

Features


you can now set default options
display any product option on category list
customize any product option that is shown on category list
less steps for your customers to choose the right option
boost sales
disable / enable labels
disable / enable product options on product > option basis
default opencart module support
JOURNAL2 + journal custom section module compatible
Easy installation via ocmod.
Demo
ADMIN demo
(guest/guest)
Front End
Testimonials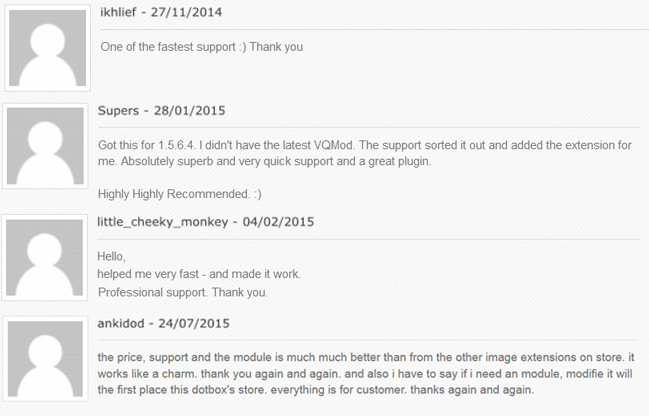 Installation
See Documentation...
Note
Due to very versatile market of the custom themes it is possible that you will require an assistance from our support team to configure the module to the needs of the theme.
----------------------------------------
[b]Installation[/b]
----------------------------------------

==================
[b]OPENCART 2[/b]
==================
The mod is released via ocmod, thus avoiding changes to core files OpenCart and easier maintenance (and possible rollback).

[b]VERSION 1[/b]
==================
1) Upload *ocmod.zip package through Extensions > Extension Installer trhough opencart admin
2) Refresh the modification cache with Refresh button in Extensions > Modifications
3) Go to Extensions > Modules > Install and setup the "Product Options To Category List" module
4) Setup the module.
For a rollback of the installation, you simply need to Disable or Delete the extension in Extensions > Modifications and then clear - refresh cache.

For manual rolback delete files in system\modification and Refresh the cache in admin.

[b]VERSION 2 (for oc 2.2)[/b]
==================
1) Copy the content of the upload folder to your store.
2) Refresh the modification cache with Refresh button in Extensions > Modifications
3) Go to Extensions > Modules > Install and setup the "Product Options To Category List" module
4) Setup the module.

For a rollback of the installation, you have to delete the files in system\modification and delete the

catoptions_dotbox_xx.ocmod.xml file and Refresh the cache in admin.



[b]Extra info[/b]
==================
Auto-price count is available thank to [url=http://www.opencart.com/index.php?route=extension/extension/info&extension_id=24129]Quantity Options + AutoPrice[/url] extension and only available for opencart 2+



[b]CHANGELOG:[/b]
==================
v1.0.6k (26/8/2016)
- oc 2.3 fixed module modification bug, error log bug

v1.0.6ff (12/8/2016)
- opencart 2.3 support

v1.0.6ff (16/7/2016)
- fixed issue with category image radio buttons in IE

v1.0.6x oc 2.2 (4/5/2016)
- fixed issue when error occurred during installation in some cases

v1.0.6f oc 2.2 (4/5/2016)
- fixed issue with options to module plugin in combination with auto-price extension

v1.0.6f (4/4/2016)
- added function to JOURNAL version to manage product layout while options are activated

v1.4.7 (29/1/2016)
- fixed minor issues with default options

v1.4.6f (29/1/2016)
- journal 2 image auto-select fix

v1.4.6 (20/1/2016)
- you can now set default options

v1.4.5 (1.0.4v) (20/1/2016)
- minor fixes

v1.4.4 (20/1/2016)
- JOURNAL2 + super filter fix

v1.4.4 (18/1/2016)
- quantity fix
- JOURNAL2 + journal custom section module compatible

v1.4.4 (7/1/2016)
- fixed select error notification

v1.4.3 (5/1/2016)
- minor fix

v1.4.3 (17/12/2015)
- changed installation procedure

v1.4.2 (8/12/2015)
- opencart 1.5+ select option fix

v1.4.1 (7/12/2015)
- mojishop modules support extended

v1.4 (1/12/2015)
- mojishop support extended

v1.3.1 (6/11/2015)
- OC 1.5 Journal theme support

v1.3 (4/10/2015)
- vqmod version
+ cross support with Quantity Options Module

v1.2 (27/9/2015)
- opencart 1.5 support

v1.1 (23/9/2015)
- minor fixes
- added search

v1.0 (9/9/2015)
- Initial release